Our Approach
At Fabtech ID, we believe that the risk of accidents related to energy isolation can be eliminated by developing and integrating a hasardous energy control system understood by workers, contractors and management. SIS offers you that peace of mind.

SIS define our Safety Innovation Systems. When you decide to use our systems in your working environment, you ensure optimal conditions for the safety of your worker. You will reduce the risk of incidents and accidents relating to energy isolation and lockout tagout processes. With SIS, efficiency is assured during sporadic maintenance activities, or planned shutdowns
One of the characteristics of SIS is the integration of the FAILSAFES in our systems. These failsafes serve as to avoid errors. For example, if a machine requires 5 padlocks to secure from an accidential stat-up, the transport cart will have exactly 5 holes. Before leaving the lockout tagout station with your equipment, you will see at first glance if all the necessary equipment and locks are on hand.

The SIS is SCALABLE. The SIS can be implemented in several stages. During a lockout tagout project, budgets are often limited. In addition to reducing equipment renewal costs (our products are durable, efficient and non-alterable), our LOTO experts will develop a specific implementation plan with milestones so you can follow closely, in order to forecast and separate costs over time.

Performance•Durability
For a global and uniform management system
• Uniformity across sites
• Compliance with laws and standards
• Corporate image of ownership and responsibility
• Standardized audits throughout the organization
• One stop shop and cost reduction
For optimizing production activities
• Operational effectiveness
• Compliance with laws and standards
• Reduction of execution time
• Optimal staff training and integration
• Continuous equipment inspection and maintenance
For increased security at all levels
• Global program management
• Strengthen the safety culture and employee confidence
• Reduced accidents and potential injuries


For adaptable systems that take in to account operational realities
• Quick access to equipment
• Reduced risk of serious injury
• Integrated safety continuous improvement
• Enable multisite operational efficiency


Do you want to improve your system? Don't wait any longer and contact us today.
Write to us and raise to World Class levels.
Innovation
We have developped a whole range of products and equipment which allow an optimal use of SIS.
The Safety Innovation Systems are inspired by the 5S model: create and organized workflow, simple.
The system is ADAPTATIVE and SCALABLE. It is adjustable and suited for all environments and can easily be upgraded and modified according to changes.
Failsafe
Our failsafe designs are an integral part of our solutions. They allow, as the name suggests, the avoidance of errors. Using icons, symbols, shapes and color coding, workers will know immediately, regardless of their language or their reading level, the exact quantity of locks, tags and equipment needed and where each item must be applied within the cabinets or lock boxes. This is a clear demonstration of the universal nature of our solutions.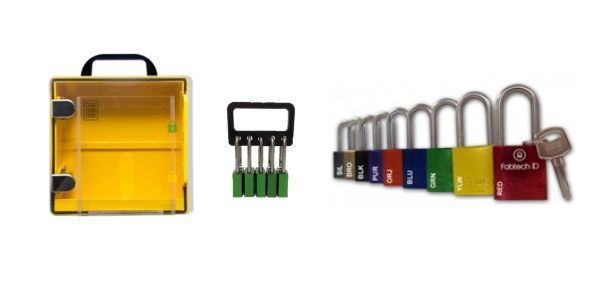 Assess your lockout tagout program and system with our free online tools

Our Services
At Fabtech ID, we consider that the risks of accidents related to energy isolation can be eliminated by implementation of a complete system comprehensible and applied by all workers. That is why our approach involves assessing and implementing a clear system, training your workers and cofirming ongoing operational practicality. Whether through coaching or in turnkey model, our SIS approach adapts to operational practices in place within your organization.

Our Professional Services
Assessment
Our lockout tagout experts perform detailed diagnostics to assess the current state of your situation, as well as utilization objectives of identifying key areas of improvement. The assessment results are presented as recommentations therefore facilitating the development of an action plan with timetable, all while respecting your internal management of change capabilities.
The assessment will require an one-site visit to your various sites and operations. Following our assessment, a detailed report of your current gaps will be submitted, allowing you to plan your next steps both operationnaly and financially. our free online assessment tools are also at your disposal on our web site.
Lockout Tagout Programs and Policies
The development of a company-wide lockout tagout program is the foundation of an effective system. Establishing standad operating rules and procedures combined with the appropriate require equipment is the basis of compliance.
A lockout tagout program must contain the following intems:
· Requirements and expectations
· Roles and responsabilities
· Lockout tagout sheets
· Lockout tagout utilization specifics
· Equipments and tools
· Specific situations
· Training and development
· Audits and inspections
Supported by a team of experts with more than 30 years of experience across all fields of work, Fabtech ID can help you with the development of your program. They will work on innovative and practical solutions that correspond to your operation capabilities and realities.
Development And Drafting
Implementing of a lockout tagout program requires drafting of equipment specific and task specific procedures which take into account all hazards and risks.
Accuracy of wording and definitions in relation to pictures and images used, is critical in the drafting of LOTO procedure sheets.
Furthermore, because the validation and approval process regarding equipment specific procedures is the responsability of the equipment owner, it is essential to involve knowledgeable and experienced ressources from eachh responsible department.
Our lockout tagout experts s have all the necessary knowledge and experience relating to compliance and world class standards. They can assist you and your team, in the development and drafting of your program, with training and support, and in-depth analysis of your hazardous energy sources: , Consult a LOTO sheet example.
If a situation arises where a lock must be removed other from the original owner: Consult a Removal form example.
Training

Training is key to empowering your organization develop and maintain a safe working environment. A successful energy isolation management system requires ongoing training. Fabtech ID offers different types of training modules according to your needs, including:

► Lockout Tagout Turnkey Training
Our team of experts offers all the necessary training required for a functional and successful lockout tagout program. Our training services are structured to meet high demand as well as specific needs.


►
Lockout Tagout Trainer Certification
To ensure autonomy of your worker's skill maintenance and to facilitate the integration of new personnel, our experts conduct trainers' training sessions. Your team will thus be able to train your employees themselves on lockout.

► LOTO Sheet Drafting
Training
Learn how to properly identify and analyze hazardous energies and develop and draft lockout tagout procedural sheets to comply with requirements. This training will allow you to achieve the level of knowledge required to create LOTO specific documents.
Take advantage of our training simulators which allow for practice on different energy control points present in working environments. This great product from our new SIS brand is extremely beneficial for both trainers and workers who will experience "hands-on" lockout tagout steps with different energy sources.
LOTO Equipment Management Organization
Lockout Tagout equipment is essential for efficient utilization and to ensure ownership within the system. Our experts can provide advice and recommendations for equipment needs, appropriate systems, lockout tagout required mechanisms, and a strategic deployment plan for the positioning of LOTO boxes and lock stations throughout your facilities.

We offer a complete line of lockout tagout products and solutions bases on the 5S vision to ensure optimization and improve overall productivity.


30 years of experience in the field of energy isolation, has confirmed to us that quick and easy access to lockout tagout equipment saves time, improves worker motivation and confidence, ensures utilization, and reduces accidents and injuries.
Access the assessment tool here.
Audit and Inspection


Our experts at Fabtech ID are available to participate in the continuous improvement of your project by carrying out regular audits and inspections at your various sites. A knowledgeable external view will identify and expose your realities based on world class best practices. These inspections give you an overall "snap-shot" of the effectiveness, utilization, and ownership expected by your policies and procedures.
Results of these audits will be compiled in an easy to read report. The results will able you to confirm good practices, as well as inform you of key improvement opportunities. Finally, recommendations and proposed corrective actions will complete the report.
Access your free audit tool here.
Take charge of your lockout tagout program today!
Contact us to learn more about our Safety Innovation Systems from brand.